21 septembre 2017
Chocolate Kalakand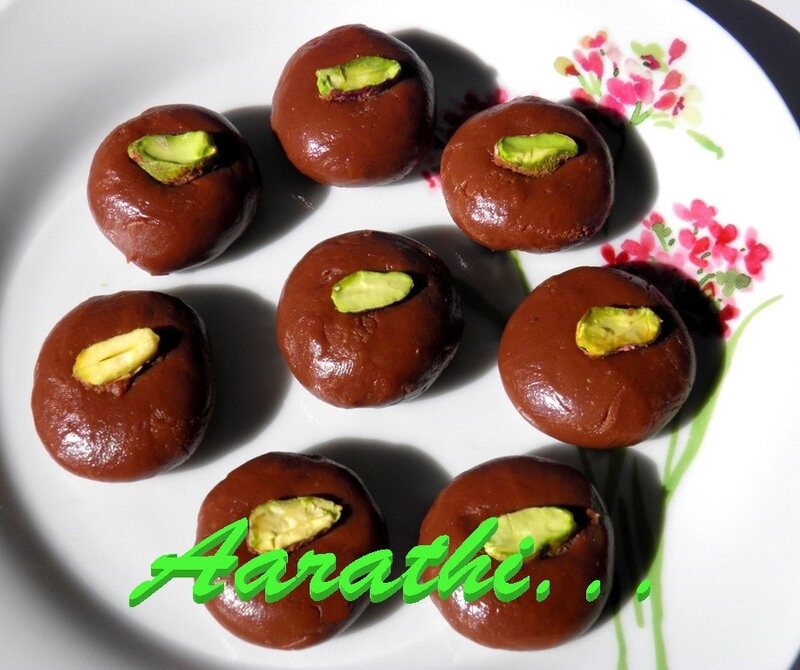 Ingredients
250 g Ricotta cheese
200g sweetened condensed milk (1/2 tin)
6 chocolate squares
20g butter
1/2 tsp cinnamon powder
1 tbsp sugar
Chopped Almonds / Pistachios
Method
Mix ricotta cheese with condensed milk.
Take chocolate & butter in a heavy bottomed vessel.
When melted, add ricotta mix.
Stir continuously over medium heat.
When the mixture leaves the sides of the pan, remove from fire .
Add cinnamon powder & mix well.
Grease the palm & roll into small marble sized balls.
Decorate with chopped pistachios & serve your loved ones.


18 septembre 2017
Kouglof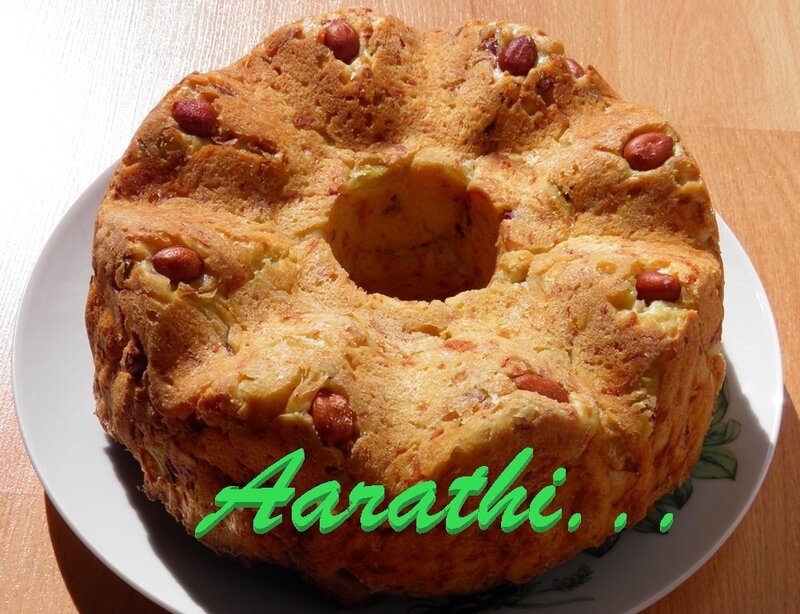 Ingredients
20g fresh yeast
200 ml luke warm milk
400g flour
150g butter (melted)
2 eggs (beaten)
100g grated cheese (emmental)
1 tsp cumin seeds
1 tbsp peanuts
2 onions (chopped)
1 green chilli (chopped)
A piece of ginger(chopped)
Few curry leaves(chopped)
1 cup chopped ham (fried)
Peanuts / almonds (decoration)
Method
Dilute yeast in luke warm milk.
Mix all the other ingredients & knead for 10mn;
Fry chopped ham & add to the batter.
Cover & keep the dough aside for an hour.
***
Grease & flour the kouglof tin.
Arrange some peanuts at the bottom & then top with the prepared batter.
Cover & let it rise for half an hour.
Preheat oven to 200°C & bake for 40-45mn.
Serve as a starter.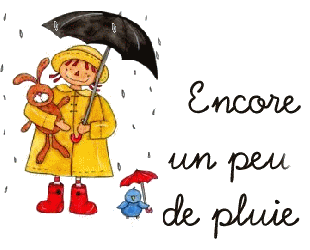 14 septembre 2017
Rava Adai


Ingredients
1 cup semolina
2 tbsp rice powder
Salt to taste
Luke warm water
***
1 tsp fennel seeds(crushed
A green chilli (chopped)
A piece of ginger(chopped)
A big onion (chopped)
2 shallots(chopped)
Curry leaves(chopped)
Coriander leaves(chopped)
1/2 tsp red chilli poder
1/2 tsp turmeric powder
1/2 tsp hing
Method
Mix semolina, rice powder & salt in a bowl.
Add a cup of water, mix , cover &keep aside for an hour.
Meanwhile chop the vegetables.
Add to the semolina & mix thoroughly.
Then add crushed fennel seeds, chilli powder, turmeric powder & hing.
Add some more water to get a semi thick batter.
***
Heat a greased non stick pan / tava.
Pour a ladle of batter .
Smear some oil & cook the otherside.
Repeat the process with remaining batter.
Serve these spicy ada's with Veg / Non Veg curry.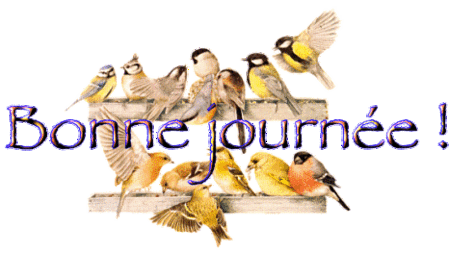 12 septembre 2017
Aval Vilayichathu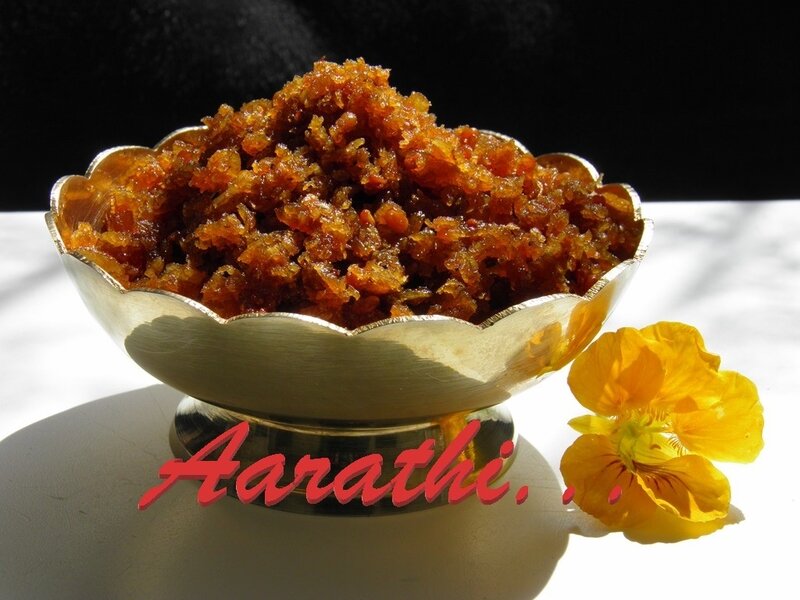 Ingredients
2 cups rice flakes(beaten rice /poha)
1 cup grated coconut / dessicated coconut
5 cubes of jagerry
A pinch of dried ginger powder
1/2 tsp cardomom powder
2 tbsp ghee
2 tsp toasted sesame seeds
Fried raisins & cashews (optional)
Method
Dry roast rice flakes & keep aside to cool.
Gently heat jaggery & water to make a thick syrup.
Strain it & mix with grated coconut.
Keep once again on medium heat.
When it thickens add roasted rice flakes;
Mix well with a wooden spatule so that rice flakes are well coated with jagerry.
Then add ghee , mix well & let it cool.
Then add fried raisins,cashews & toasted sesame seeds.
Garnish with dried ginger powder & cardomom powder.


Happy Janmashtami
07 septembre 2017
Moroccan Fried Fish


Ingredients
1 tsp chilli powder
1 tsp coriander powder
1 tsp paprika powder
1 tbsp tomato puree
1/2 tsp turmeric powder
1/2 tsp cumin powder
1/2 tsp freshly ground black pepper
2 garlic cloves(paste)
2 tbsp oil
Juice of a lemon
Salt to taste
***
4 porgies (Saupe)
Method
Mix the first 10 ingredients in a bowl & keep aside.
Wash fish & blot dry with kitchen paper.
Make incisions on both sides & mix well with the marinade.
Cover & keep in the the refrigerator for 2 hours.
***
Heat a nonstick pan.
Deep fry both sides on medium heat.
If you are using an oven , preheat to 180°C.
Bake the marinated fish 25 mn until brown & crispy .

25 août 2017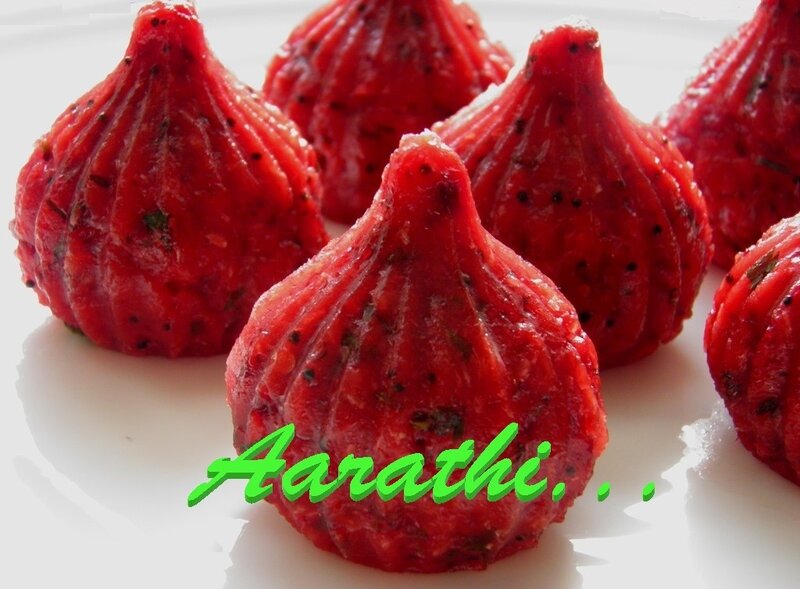 Ingredients
2 cups rice powder
1 cup chopped beetroot
3 tbsp dessicated coconut / freshly grated coconut
2 green chillies (finely chopped)
A piece of ginger ( finely chopped)
1 tsp cumin seeds
1/2 tsp coarsely pounded black pepper
1/4 tsp turmeric powder
1 tsp mustard seeds
1 tsp urud dal seeds
A pinch of hing
1 tsp salt
Chopped curry leaves + coriander leaves
1 1/2 cup warm water
Oil for frying
Method
Take rice flower + coconut in a bowl & keep aside.
Heat oil in a pan & splutter mustard seeds.
Then add urud dal seeds. Fry till light golden brown.
Then add chopped beet & fry for a while.
Add chopped green chillies+ginger +curry leaves+ salt.
Add water, cover & cook for a few minuites.
Add a pinch of hing & remove from fire.
Pour the mixture over the rice powder.
Add chopped coriander leaves & pounded black pepper.
Mix well with a wooden spatule & keep aside for an hour.
Make lemon sized balls.
Grease the modak mould.
Take a dough ball, put it it mould & press.
Repeat the process with other dough balls.
Steam cook dumplings for 15-20 mn.
If you don't have modak mould, just make balls & steam cook.
Serve with a dipping sauce / curry.