15 janvier 2021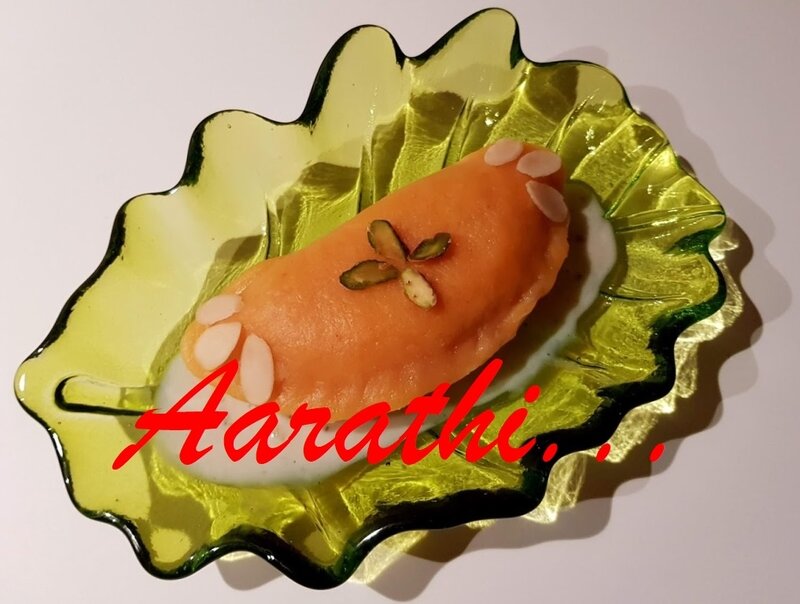 Ingredients
2 cups rice powder
3 tbsp mashed sweet potato
2 cups of water
1 tsp salt
Filling
50g ghee / butter
A pinch of salt
1 cup freshly grated coconut / dessicated coconut
4 jagerry cubes
Raisins & cashews
1/4 tsp cardomom powder
***
4 cups milk
1/2 tsp cardamom powder
Nuts for decoration

Method
Boil water . Add salt .
Then add rice powder & mix with a wooden spatule .
As mashed sweet potato & mix well.
Remove from fire & close with a lid. Leave for 5 min.
***
Gently heat jaggery & water to make a syrup.
Remove from fire & strain it.
Add coconut, pumkin puree & keep it on medium heat.
When it becomes thick, remove from fire.
Add fried cashews, raisins & cardomom powder.
***
Make lemon sized dough balls.
Take a dough ball & flatten on it.
Spread the prepared filling in the middle & fold it.
Press the edges.
Repeat the same with other dough balls.
***
Boil milk in a skillet & add prepared ada .
Stir & cook both sides.
When cooked, add cardamom powder .
Top with nuts of your choice & serve.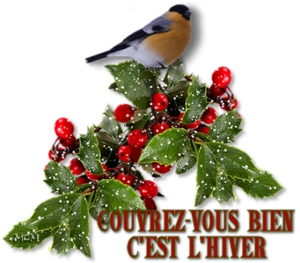 13 janvier 2021
Ingredients
250g - okra (Bhindi ,lady's finger)
An onion (sliced)
A green chilli (half slit)
Berry size tamarind pulp
1 tsp mustard seeds
1 dried red chilli
Curry leaves
Salt to taste
*Coarsely grind*
1 cup freshly grated coconut
1/2 tsp cumin seeds
2 shallots sliced
A green chilli (half slit)
2 garlic cloves
Few curry leaves
***
Method
Soak tamarind in water & keep aside for 10 min.
Extract the juice & keep aside.
**
Coarsely grind coconut with other ingredients & keep aside.
**
Wash & completely dry the okra's.
Half slit & cut them in sticks.
***
Heat oil in a sauce pan.
Splutter mustard seeds, dried chilli & curry leaves
Then add sliced onions & fry till translucent.
Add green chilli along with sliced okra.
Then add tamarind extract & mix well.
Cover & cook on medium heat.(2 mn)
When cooked, add coarsely grind coconut & mix well.
Cover & cook for another 2 mn.
When the oil seperates, remove from fire.
Serve with rice.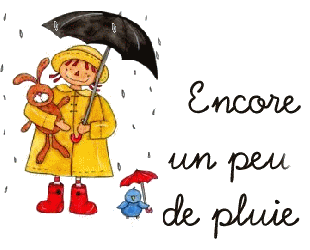 11 janvier 2021
Ingredients
2 carrots
2 green chillies (chopped)
A piece of ginger
2 tbsp yogurt
1 tbsp olive oil
2 tsp anise seeds
1 tsp salt
***
250g whole wheat flour
250 flour
1 cup luke warm water
Oil
Method

Peel, wash & scrape carrots & ginger using a mandoline.
Mix first seven ingredients & keep aside.
Mix two flours in a bowl & the then add prepared carrot.
Add water little by little to get a stiff dough.
Cover & keep aside for an hour.
Make evenly sized balls.
Take a lemon sized ball & flatten it using a roller.
Heat non stick pan . Spread oil on it .
Add the roll out paratha.
Spread some oil & press the edges.
Flip & cook the other side.
Repeat the process with other balls.
Serve hot with veg / non veg curry.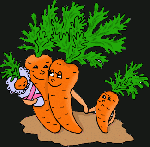 08 janvier 2021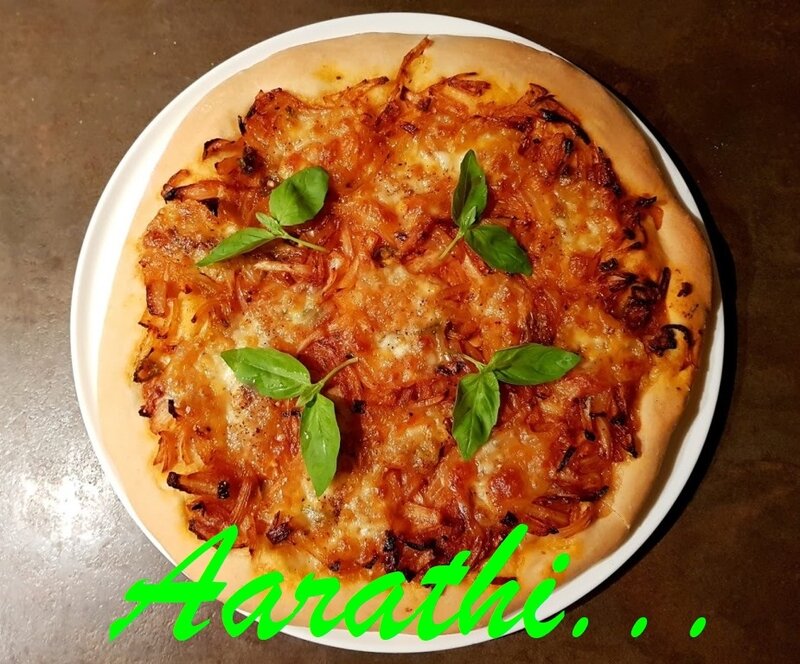 Ingredients
*For the base*
450g flour
2 tbsp olive oil
15g fresh yeast or (2 tsp dried yeast)
150 ml luke warm water
1 tsp sugar
Salt to taste
**Sauce**
2 tbsp olive oil
A bay leaf
3 tbsp organic tomato puree
A green chilli cut in rings (optional)
3 onions (optional)
3 cloves of garlic(chopped)
1 tsp paprika powder / red chilli powder
Salt to taste
Mozzarella cheese (sliced)
** Topping**
Fresh Basil Leaves
Method
Dilute yeast in luke warm water with 1 tsp sugar. Set aside for 15 minuites.
Mix all the ingredients with the wooden spoon.
Cover the bowl with a cloth & leave for 1or 2 hours, until it's doubled.
***
Heat oil in a pan & add chopped garlic .
Then add sliced onions, chilli, paprika, salt & tomato puree.
Mix well , cover & cook for a while.
Remove from fire & garnish with herbes de Provence.
****
Spray some more flour & knead it again.
Take the dough ball over a parchement paper.
Roll out the dough in to a circular shape.
Leave it to rise for 10 mn.
***
Spread evenly the prepared sauce over the pizza.
Arrange mozzarella slices & spray some pepper & olive oil on the top
Pre-heat oven to 200°C & bake for 25 mn.
Top with basil leaves & serve.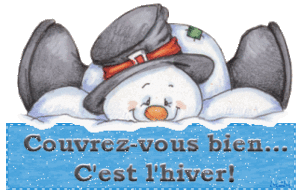 06 janvier 2021
Galette des Rois aux fruits de la Passion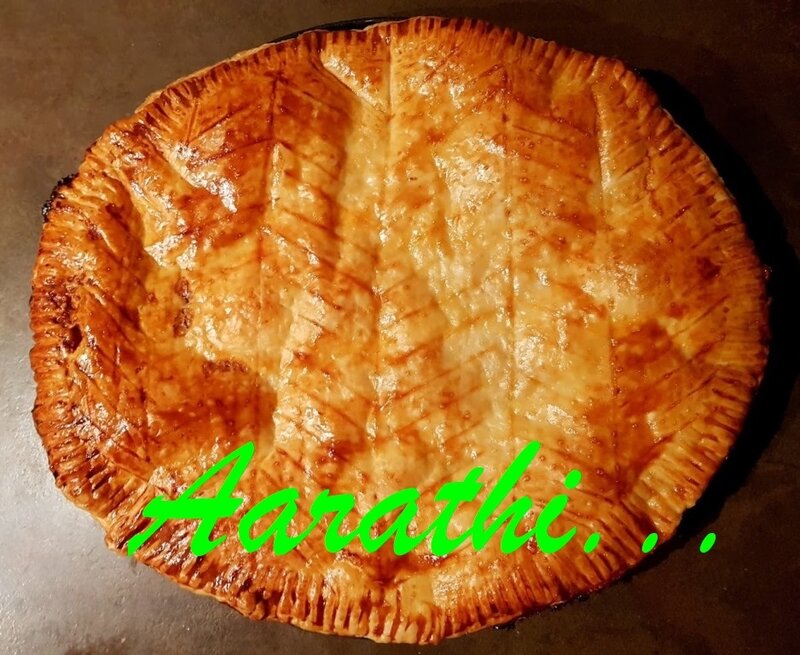 Ingredients
2 frozen puff pastries
1 trinket
For filling
175 g almond powder
25 g crushed almonds
100 g butter
125 g sugar
2 passion fruits (pulp)
2 small eggs
***
An egg yolk + 1 tbsp water
Method
Pre heat oven to 210° (Ther -7).
Collect the pulp of the passion fruits with seeds.
Mix butter with almond powder.
Then add beaten eggs & mix well.
Add crushed almonds along with passion fruit pulp.
Cover & keep in the refrigerator for an hour.
***
Spread one of the puff pastry on a baking tray.
Leave 2/3 cim border & spread uniformly the almond paste.
Don't forget to place a trinket.
Place the second puff pastry on top & press the edges using a fork handle.
Leave in the refrigerator for 20min.
Using a knife, draw a pattern over the galette.
Don't forget to make 4/5 holes on it.
Then beat an egg yolk with 1 tbsp water & brush it on the the top of the galette.
Bake for 30min, 180° C (Ther - 6) .
Serve warm / cold with apple cider.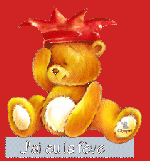 01 janvier 2021
31 décembre 2020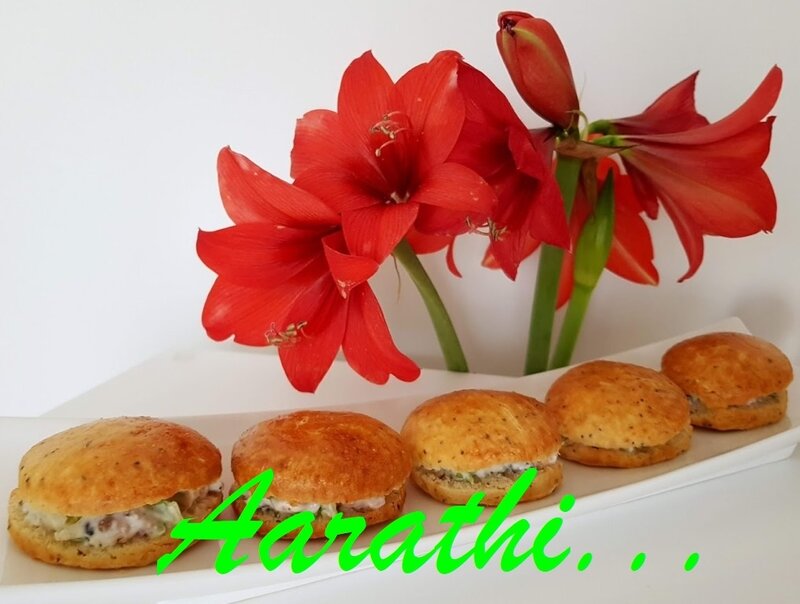 Ingredients (12 scones)
220 g flour
50g grated Parmesan cheese
1 tsp baking powder
An egg
50g butter
1 tsp cumin seeds
1 tsp black poppy seeds
1 tsp dried Rosemary
20 cl milk
Salt to taste
Method
Preheat oven to 180°C.
Sieve the flour and baking powder together.
Add chopped butter to the flour.
With the fingers rub them to get a crumb mixture.
Add grated cheese & milk.
Then add cumin, poppy seeds & knead gently.
Make small balls & flatten them in the greased 12 hole muffin tray.
Brush the top with egg yolk & bake for 20mn until risen & golden-brown.
Serve as a starter with foie gras / cream cheese.

29 décembre 2020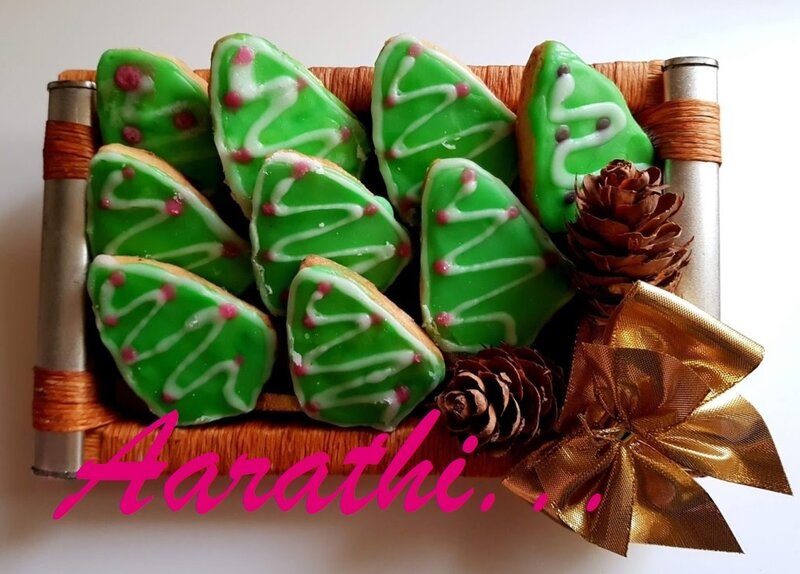 Ingredients (12 biscuits)
150g flour
50g icing sugar
100g salted butter
1/2 tsp vanilla essence
*Icing*
4 tbsp icing sugar
2 tbsp water
1 tbsp canesugar syrup
Colour of your choice
Method
Sieve the flour in a bowl & mix it with sugar.
Add chopped butter along with vanilla essence.
Knead the dough.
Cover & chill for 30mn
Roll out the dough & cut into desired forms using a cookie cutter. (1/4 " thickness)
Prick the cookies with a fork & arrange on a baking tray.
Bake for 12 - 15 mn until the edges are light brown.
Cool on the wire rack & then decorate with royal icing .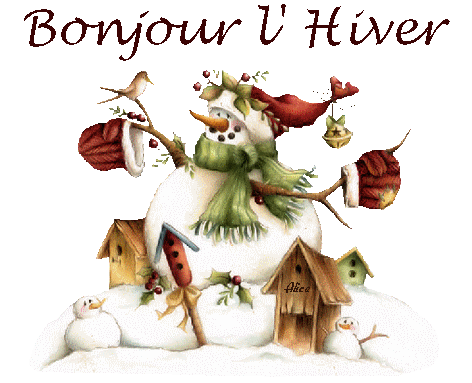 24 décembre 2020
Snowflake Pull-Apart Bread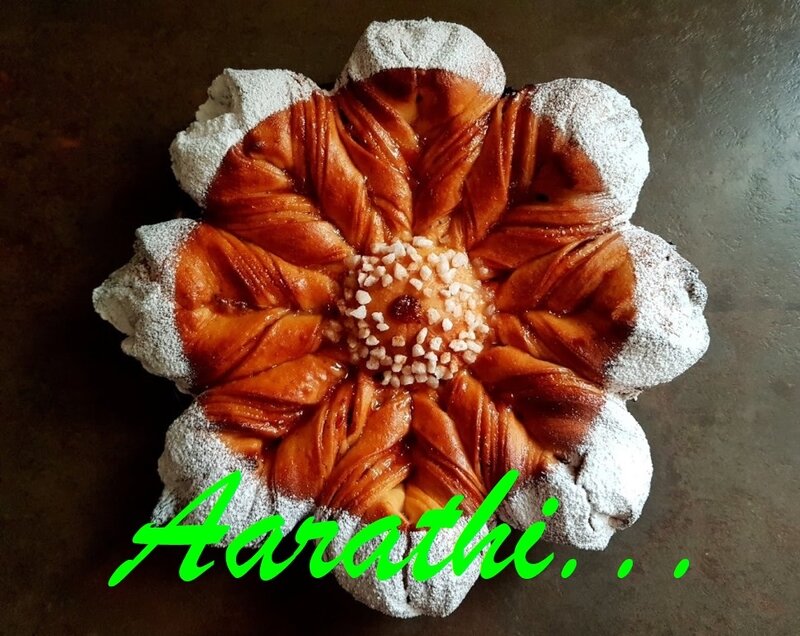 Ingredients
100 ml luke warm water
100 ml luke warm milk
1 tsp sugar
20g fresh yeast
700g flour
2 eggs (beaten)
3 tbsp honey
50g melted butter
1/2 tsp ground cardamom
1 tsp salt
For glaze
An egg yolk
1 tbsp milk
***
Jam of your choice
1/2 tsp ground cardamom
Icing sugar for dusting
Sugar crystals
Method
Preheat oven to 180°.
Dilute yeast in luke warm milk.
Mix all the four ingerdient & keep aside for 15mn.



Mix all the other ingredients & knead for 10mn
Cover & keep the dough aside for an hour.



Divide the dough into 4 balls.
Roll out into four equal sized discs.
Mix a cup of jam with cardamom pwder & spread over the first disc.
Stack the discs one over the other.
Invert a glass in the middle & cut it as shown in the pic.
Then twist & tuck at the end.
Repeat the same with other slices.
Cover & allow to rise for 30 mn.



Prepare eggwash & glaze the bun.
Preheat the oven to 180°C.
Arrange on a greased baking tray & bake for 30 mn.




Remove frm oven & keep aside to cool.
Sift icing sugar over the top & serve.