Region : Midi-Pyrénées
Departments : Aveyron, Cahors,Gers,Tarn, Tarn et Garonne,Haute Garonne, Haute Pyrénées & Ariege.

Toulouse

Toulouse is called " la Ville Rose " (the pink city) because most of the buildings, houses and even the banks of Garonne are built with red bricks. In the Middle Ages the local quarries became exhausted and the people were forced to use red bricks. City was founded by the Romans.In 16th century it was one of the most important pastel producing places in Europe. At that time this flower is used to dye linen . It gives an indigo colour.
Heart of Toulouse is it's "Place du Capitole" - the city hall.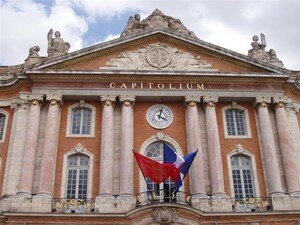 The three Capitols in the world are in Rome, Washington and Toulouse.
Places to visit
Hotel d'Assezat : 16th century Renaissance Hotel
Rue Saint Rome : Private dwellings of the rich pastel merchants.
Place Saint Sernin : 12th century-the finest Romanesque church in Southern France
Place Saint Etienne : 13-14th cathedral and antiques merchants
Cloitre des Jacobins : 13th gothic church
Quai de Tounis-Place Saint Pierre : nice walk along the Garonne river.

In the 21st century Toulouse is famous for its aviation industry . Airbus the european aeronautical manufacturer & the ESA european aerospatiale are situated here. Airbus the rival of Boeing is assembled here.
Famous dish of Toulouse is Cassoulet. Don't forget to taste it .Ingredients are white haricot beans, sausages & chunks of meat - duck/pork/goose depending on the variety.