Raita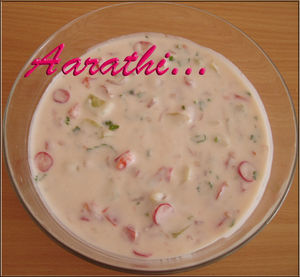 Ingredients
2 shallots(sliced)
1 green chilli (cut in coins)
10 small red raddish(cut in coins)
2 tomatoes(sliced
1 small piece of cucumber
3 yogurts (125 g each)
1 tsp salt
Coriander leaves.
Method
Chop the veggies.
Add salt & leave for 5 min.
Whip yogurt & add to the chopped veggies.
Add 1/2 glass of water & mix well.
Garnish with chopped coriader leaves.
Serve with basmati rice.