Kayappam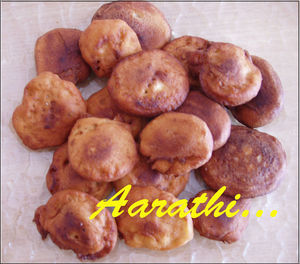 Ingredients
2 mashed bananas
2 cups flour
1 cup sugar
1/2 tsp baking powder
1 egg
1 tbsp chopped copra (dried coconut)
1/2 tsp cardomom powder
oil for frying
Method
Mix all the five ingredients & set aside for a 15 min.
I'm adding an egg so that the appam doesn't absorb oil.
Add cardomom powder & mix well.
Heat oil & pour 1 tbsp of the batter.
When golden brown, cook the other side.
Repeat the process with the remaining dough.
Serve hot with tea.