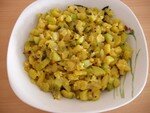 Courgettes Fry
Ingredients
2 courgettes (Zucchini / Italian squash)
1 chopped onion
1 tbsp dessicated coconut
1 tsp cumin seeds
1 tbsp oil.
1 tsp mustard seeds.
1/2 tsp turmeric powder
1/2 tsp chilli powder
1 tsp salt
1 bowl water
Curry leaves
Method
Blend coconut & cumin seeds in a mini food processor & keep aside.
Peel courgettes & cut into small pieces.
Heat oil in a pan & add mustard seeds.
When it pops, add chopped onion & cougettes.
Fry for 5 min.
Add salt,chilli powder & turmeric powder.
Fry again .
Add water & the blended mixture.
Cook for about 10 min.
Garnish with curry leaves.