Indian Fruits Salad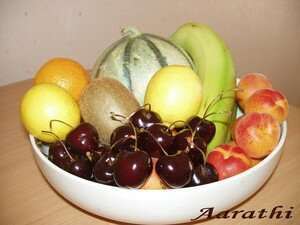 Cut all the fruits.
(canteloupe, banana, apples, cherries, apricots)
Press one orange & add to the fruits
Mix all the fruits in a salad bowl.
Cover & chill.
To make custurd
Dilute 30g of custurd powder in cup of milk(without any lumps).
Boil 1/2 l milk. Add 50g sugar.
Then add the prepared custurd powder.
Stir continously. Cool & refrigerate it.

Pour the chilled custurd on the the fruits, toss & serve.
Decorate with cherries.