Kannan Pathiri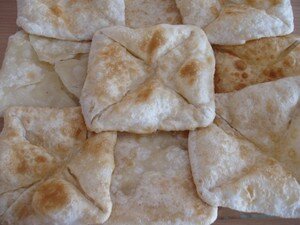 Ingredients
500 g flour
250 ml water
1 tsp salt
oil for frying
Method
Mix first three ingredients & knead well.
Cover the bowl with a damp cloth & keep aside for an hour.
Take a lemon sized ball & flatten it using a roller.
Spread 1 tsp oil on the flattenened disc.
Transform the disc into a square.(as in fig)
Then take the four corners & join in the middle. (as in fig)
Flatten again into square pathiri's & keep aside .
Repeat the process with other dough balls.
Heat plenty of oil.
Gently slip the pathiri in hot oil.
Splash hot oil on the top.
Turn over & fry the other side.
Remove using a slotted spoon & drain on a kitchen paper.
Ur Kannan Pathiri is ready !
Serve hot with Veg / Non Veg curry .