To reach Bercy take Metro Line 14 - a driverless train . This fully automated line stretches between Saint Lazare & Bibliotheque Francois Mitterrand . Project's full name is 'Meteor'( Metro Est-Ouest Rapide). It was opened to public in 1998.

Bibliotheque Francois Mitterrand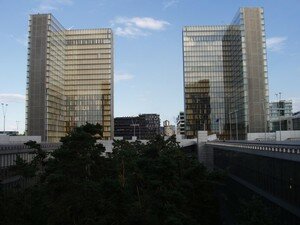 On 14 July 1988, François Mitterrand announced the construction and the expansion of one of the greatest and the most modern library of the world. It's architect was Dominique Perrault. Library consists of four 25-story L-shaped towers (like open books) arranged at the corners of a giant platform around a sunken garden.There are several trees planted in this garden. This National Library of France was opened to public on 20th December 1996. It contains more than ten million volumes. There is a great collection of Indian books. I came to see the first Mal dictionary written by Dr Herman Gundert.
Passerelle Simone de Beauvoir
This pedestrian bridge connects the Bibliotheque Francois Mitterrand & the Bercy Park. This was inaugurated on 13th July 2006 by Bertrand Delanoë (Maire de Paris)