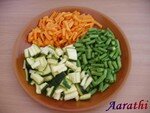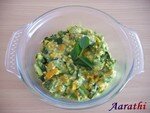 Avial
(Kerala Speciality)
ingredients
3 tbsp grated coconut / dessicated coconut
1 tsp cumin seeds
1 green chilli
1/2 tsp turmeric powder
1 tbsp water
curry leaves
***
1 small carrot
1 small courgette
50 g french beans
3 tbsp yogurt
3 tbsp coconut oil / veg oil
salt to taste
Curry leaves
Method
Blend first six ingredients in a mini food processor & keep aside. Don't make a paste.
Cut the vegetables in strips ( as shown in photo).
Heat a sauce pan with 2 tbsp oil.
Fry curry leaves & carrots.
Then add other vegetables & fry again.
Add the blended mixture , water & salt.
Simmer for 5 minutes. Don't overcook.
Remove from fire & cool.
Add churned yogurt to the vegetables & stir well.
Garnish with curry leaves & a tbsp of coconut oil.
***
In Kerala we use plantains, Yam, pumkin etc..