Le Palais Longchamp / Longchamps Palace (1862-69)
In XIX th century, Marseille town experienced water shortage .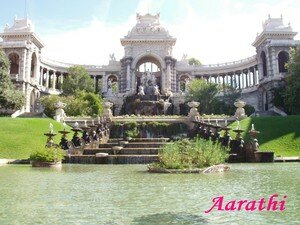 So the civil engineers of Ponts et chaussées (Prestigious college of Civil Engineering- Paris) constructed a new canal from the Durance river to Marseille. To celebrate this event, Henri Espérandieu constructed this luxury palace. Now the left wing of the palace houses the Fine Arts Museum & the right wing the Natural History Museum. Behind this palace there's a garden from where we can get a view of the Marseille town.