Spicy Ada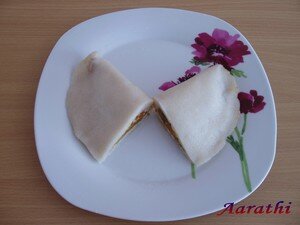 Ingredients
2 cups roasted rice powder
2 cups of water
1 tsp salt
Filling
250 g minced meat
1 tsp ginger -garlic paste
2/3 carrots(chopped)
1 big onion(chopped)
1 tsp coriander powder
1 tsp chilli powder
1/4 tsp turmeric powder
salt to taste.
coriander leaves.
Method
Boil water . Add salt .
Then add rice powder & mix with a wooden spatule .
Remove from fire & close with a lid. Leave for 5 min.
Fry onions & carrots till light golden brown.
Add ginger- garlic paste & fry again.
Add the minced meat & all the masala powders.
Add some water & cook.
Garnish with coriander leaves & keep aside.
Place a plastic cover on a plate. Take a dough ball & flatten on it .
Put the filling in the middle & fold it. (as shown in the photo).
Press the edges.
Steam the ada for 20 min.
Serve hot .