Carrot Upma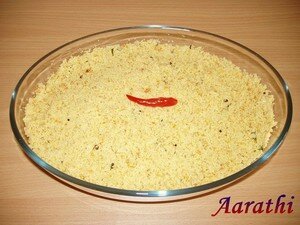 Ingredients
2 cups semolina
3 cups water
2 carrots
2 chillies
1 onion coarsely chopped
1 tsp salt
1 tsp urud dal seeds
1/2 tsp musturd seeds
a small piece of ginger
curry leaves
2 tbsp oil
butter

Method
Dry roast semolina in a pan for 8 min and keep aside.
Wash, peel & cut the carrots in chunks.
Just blend in a food processor & keep aside.
Heat oil in a casserole.
Splutter musturd seeds.
Add urud dal & fry till light brown.
Then add chopped onions & fry till light golden brown.
Add ginger,chilli & chopped carrots.
Stir for a while with a wooden spatule.
Add water, salt & bring to the boil.
Close with a lid & cook for 3 min.
Add the roasted semolina & stir continously.
Keep on low fire & simmer for 2 mn.
Remove from fire & stir occasionally.
Garnish with curry leaves & butter cubes.