Chocolate Chestnut Fondant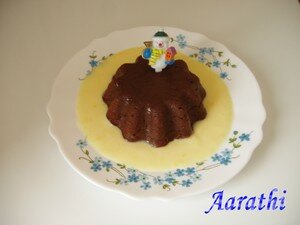 Ingredients
250 g chestnut purée
75g dark chocolate
50 g butter
2 eggs
75g sugar
1 tsp vanilla essence
Method
Preheat oven to 150°C (Ther-5).
Melt chocolate & add butter.
Add chestnut purée & mix well.
Then add beaten eggs & essence.
Mix until smooth & pour it into greased ramekins.
Bake for 35 min.
Remove from the oven & set aside to cool.
Before serving keep it in the refrigerator.
Decorate with candied chestnut & serve with custurd.