Murtabak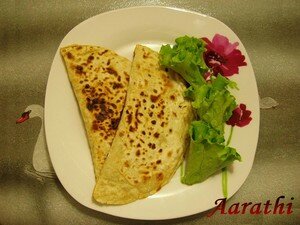 Ingredients
500 g flour
250 ml water
1 tsp salt
Oil /ghee
Filling
250 g minced meat
2 onions(chopped)
2 cloves of garlic + a piece of ginger (make a paste)
1 green chilli
1 tbsp masala powder
1/2 tsp red chilli powder
1/4 tsp turmeric powder
3 eggs
Freshly ground pepper
Curry leaves / coriander leaves
Salt to taste
Method

Mix first three ingredients & knead well.
Cover the bowl with a damp cloth & keep aside for 1 hour.
Heat oil in a sauce pan.
Fry onions till light golden brown.
Add ginger- garlic paste & fry again.
Then add masala,salt & minced meat.
Add some water & cook for 10 min.
Garnish with curry leaves & ground pepper.
Remove from fire & add beaten eggs.
Keep aside.

***
Make evenly sized balls.
Take a lemon sized ball & flatten it using a roller.
Heat non stick pan . Spread oil on it .
Add the roll out chappathi.
Place the filling & fold it.
Pour some ghee & press the edges.
Pour some ghee/oil & cook the other side.
Keep frying until it becomes crispy.
Serve hot.


Murtabaks are usually square shaped.
Filling is placed in the middle & the chappathi is folded from the four sides.
For my convenience, I have folded as in the photo.
Murtabak is similar to "Indian Kheema Rotti".