Spicy Squid Fry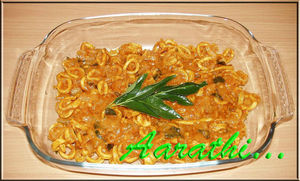 Ingredients
500g squid (cut it into thin rings)
1 tbsp tomato purée
2 onions( finely chopped)
1 tsp ginger-garlic paste
1 tsp chilli powder
1/2 tsp turmeric powder
Salt to taste
Oil for frying
Curry leaves
Method
Fry onions till light golden brown.
Then add ginger- garlic paste & fry again.
Add add tomato purée & squid.
Add water,salt & cook for a 30 mn.
When the sauce is reduced, remove from fire.
Garnish curry leaves.