Potato-Shrimp Fry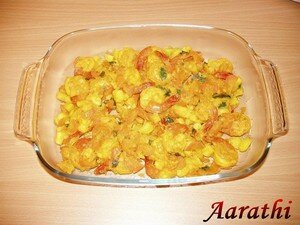 Ingredients
500g shrimp
1 tsp salt
1/2 tsp chilli powder
1/4 tsp turmeric powder
2 big onions chopped
2 medium sized potatoes(cubed)
A small piece of ginger
2 cloves of garlic
A cinnamon stick
Coriander leaves.
Method
Shell, devein and wash prawns using salt and turmeric.
Mix first 4 ingredients & keep in the refrigerator for 5 hours.
Make ginger-garlic paste & keep aside.
Heat oil in a sauce pan. Add cinnamon.
Add chopped onions & fry till translucent.
Then add ginger-garlic paste & prawns.
Add cubed potatoes.
Add some water & cook for a few min.
Garnish with coriander leaves.
Goes well with any Indian bread / rice.