Malabar Fish Curry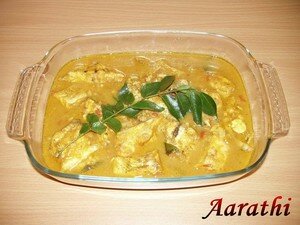 Ingredients
1 kg salmon or any other fish
a small piece of ginger (chopped)
2 green chillies (half slit)
1 tsp chilli powder
1/2 tsp turmeric powder
3 Shallots (chopped)
1 tomato (chopped)
2 tbsp coconut paste
Tamarind (lemon size)
2 cloves of garlic
1/2 tsp cumin powder
Curry leaves
Salt to taste
Method
In a bowl of water soak tamarind & keep aside.
Marinate fish with chili -tumeric & salt & keep aside.
Heat oil & fry chopped onions till translucent.
Then add the green chillies,ginger & fry again.
Then add chopped tomatoes.
Add tamarind water. (discard the pulp).
Close with a lid & cook for 5 min.
Add fish pieces. Simmer & cook for another 5mn.
Add coconut paste & cook for another 2mn.
Then add crushed garlic.
Garnish with curry leaves & cumin powder.
Serve with rice.