Radish Moru Curry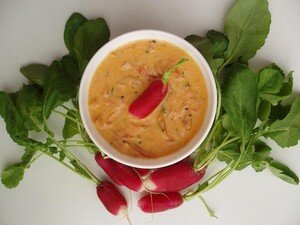 Ingredients
1 bunch of radish
2 tomatoes
3 yogurts (125 g each)
1 tbsp oil.
1 glass water
1 tsp salt
2 tbsp coconut paste (optional)
1/2 tsp turmeric powder
1/2 tsp chilli powder
1 tsp cumin seeds
1 tsp mustard seeds.
1/2 tsp cumin powder
curry leaves.
Method
Wash & cut radishes in strips *4.
Cut the tomatoes & keep aside.
Heat oil in a pan & add mustard seeds.
When in pops, add radishes & tomatoes.
Stir for a while.
Add salt, turmeric powder,chilli powder ,cumin seeds.
Stir for a while & add water.
Simmer & cook for about 10 min.
Add coconut paste & stir well.
Remove from fire & set aside to cool.
Add whipped yogurt & stir.
Garnish with cumin powder & curry leaves .
Serve with rice.


Curry in yogurt/ buttermilk is called "Moru Curry" in Malabar & Kalan in South Kerala. You can replace radishes with courgettes / plantain / yam / papaya.