Pancake with Raisins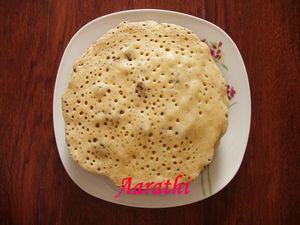 Ingredients

250g flour
2 tbsp sugar
30g melted butter
30g butter
15g fresh yeast
2 eggs
a pinch of salt
250 ml milk
1 cup raisins
1/2 tsp cinnamon powder
Method
Dilute yeast in 100 ml warm milk.
In a bowl , whisk together egg +milk+sugar +salt.
Pour the egg mixture & butter to flour & mix thoroughly (without any lumps).
Keep aside for half an hour.
Add raisins & cinnamon powder.
Heat a nonstick pan / griddle with little oil.
Pour a spoon full of batter.
Cover & cook until it's covered with bubbles.
Serve immmedietely with topping of your choice.