Spicy Scotch Eggs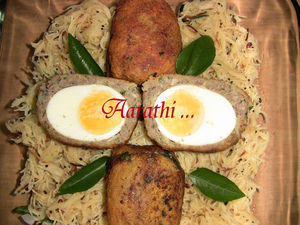 Ingredients
250 g hamburger meat
2 onions(chopped)
2 cloves of garlic + a piece of ginger (make a paste)
2 green chillies(chopped)
Curry leaves / coriander leaves (chopped)
Salt to taste
4 hard boiled eggs
Bread crumbs
1 beaten egg
Oil for frying
Method
Mix all the six ingredients & keep for an hour in refrigerator.
Take an hardboiled egg & cover uniformly with the meat mixture.
Dip in beaten egg & roll in bread crumbs.
Dip once more in egg & roll in crumbs.
Repeat the same with other eggs.
Deep fry them in a pan or in deep fryer.
Remove using a slotted spoon & drain on a kitchen paper.
Serve these spicy scotch eggs as a starter with a dipping sauce.