Biji Salak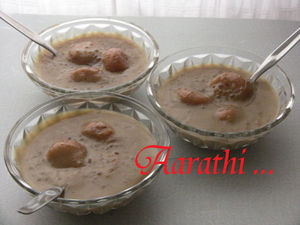 Ingredients
1/2 cup tapioca pearls( sago)
1 medium size sweet potato
5 tbsp rice flour
2 tbsp sugar
5 cubes of jagerry
1 1/2cup of coconut milk / milk
A pinch of salt
1/4 tsp cardomom powder
Ghee
Method
Roast Sago in ghee.
Stir in water & cook until it becomes trasparent.
Gently heat jaggery & water to make a thick syrup.
Strain it & keep aside.
Cook sweet potato & mash it.
Mix it with flour & sugar .
Make marble sized balls with this stiff dough.
Stir in water & cook for 15mn.
When cooked, add jagerry syrup.
Stir in cooked tapioca pearls & then add coconut milk.
Add a pinch of salt,cardomom powder & just swirl the pan.


Biji Salak is an Indonesian desert.
It's just sweet potato dumplings in palm sugar syrup.
Instead of rice flour they use tapioca flour.