Strawberry Fool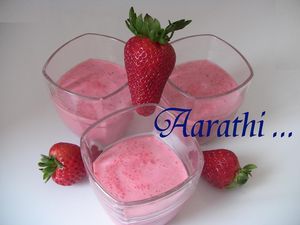 Ingredients
250 g strawberries
50g icing sugar
20g sugar
125g cream
125g greek yogurt
Few mint leaves

Method
Wash, drain & hull strawberries .
Reserve a few berries for decoration & chop others.
Sprinkle icing sugar over them & macerate for half an hour.
Mash it using potato masher & keep aside.(not a blender)
Whip the cream with sugar, until it's stiff.
Fold in yogurt & strawberry puree.
Spoon the mixture into glasses & chill for an hour.
Decorate with sliced strawberries & mint leaves.


Strawberry Fool is an English desert.
The term "fool" is derived from the French word "se fouler" meaning to mash.
April Fools Day is "Poisson d'Avril" for the French.
On this day, French kids stick a paper fish on the back of their mates.
When the prank is discovered, all of them shout " Poisson d'Avril "

All Fools Day Rhyme
April Fool
Go to school.
Tell your teacher
Bloody fool.