Moroccan Fish Bastilla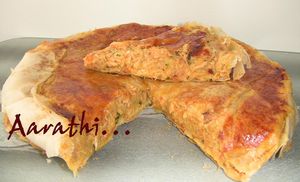 Ingredients
4 Tunisien brick pastry (feuilles de brick)
Filling
250 g minced fish (canned tuna/salmon)
2 potatoes (cooked & mashed)
1 cup cooked angel hair pasta (optional)
2 onions(chopped)
2 cloves of garlic + a piece of ginger (make a paste)
1 green chilli
1 tbsp masala powder
1/2 tsp red chilli powder
1/4 tsp turmeric powder
Curry leaves / coriander leaves
Salt to taste
An egg yolk & melted butter
Method
Boil the quartered potatoes in salted water until tender (20 mn).
Drain & let it cool.
Peel , mash it & keep aside.
Heat oil in a sauce pan.
Fry onions till light golden brown.
Add ginger- garlic paste & fry again.
Then add masala,salt & minced fish.
Add some water & cook for 10 min.
When the sauce is completly dried add mashed potatoes & mix well.
Remove from fire & the add cooked pasta.
Garnish with coriander leaves & keep aside.
Folding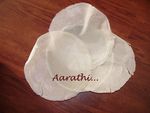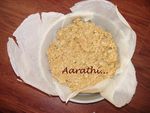 Preheat oven to 180°C.
Butter the cake tin & arrange 3 brick pastries as shown in the photo.
Spread the stuffing uniformly.
Carefully fold the pastry from all sides & brush with melted butter.
Cover with another brick pastry & tuck the edges inside the pan.
Brush with a beaten egg yolk.
Bake until crisp & golden brown 20-25mn.
Serve this as a starter with a dipping sauce.