Bull Temple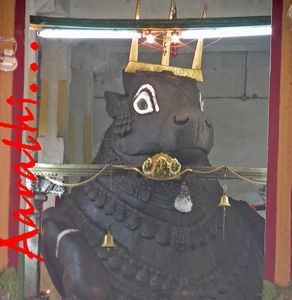 This dravidian style temple was built by Kempe Gownda in 16th centuary. Bull temple is located in Basavanagundi at the top of Bugle hill. This majestic bull is carved out of a single granite stone. In kannada "Basava" means bull. Monolithic Nandi is 4.5 m height & 6.5m long & an iron plate is over it's head to stop growing. It 's said that Vishwa Bharathi river originates from the feet of this sacred bull.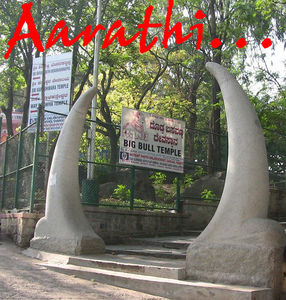 Legend says that once a groundnut farmer of Sunkenhalli was enraged against a bull who destroyed his crop. The bull sat stunned & suddenly transformed into stone. Every year in December , a groundnut fair - (Kadalakkei Parishe ) is conducted in the Temple premises & the farmers offer their first harvest to this sacred bull.

Bull Temple,
Basavanagundi, Bangalore,
Karnataka, India.