Maisons-Laffitte Castle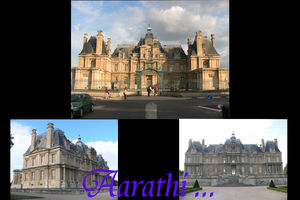 This Castle is located in Maison-Laffitte town , western suburbs of Paris .
Around 1636, René de Longueil ( President of the Parliament of Paris) decided to build a castle in his family property at Maisons-Sur-Seine. This French Classical Style Castle was designed by the architect François Mansart & was inaugurated in 1651 in the presence of Anne d'Autriche & her son Louis XIV ( 12 yrs old). Upto 1777, this castle was in the hands of Longueil Family. Later it was bought by Charles X, who has a passion for horses. After revolution, the castle was bought by Marshall Lannes & later by Jacques Lafitte( Governer of Banque de France) . In 1844, Laffitte was bankrupted & sold out to French Government . Thus "Maisons Castle" became "Maisons Laffitte Castle" / "Chateau de Maisons Laffitte".
In 1850, Joseph Ollier bought the meadows beside the Seine River to build a horserace track .Racecourse was inaugurated on 6th June 1878. After this town was nicknamed as "Cité du Cheval".