Colombo Chicken Curry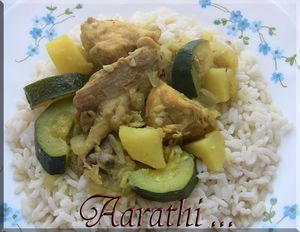 Ingredients
1 kg chicken
1 tsp salt
1 tbsp lemon juice
2 onions finely sliced
1scotch bonnet pepper (asura parangi)
1 tsp ginger + garlic paste
3 potatoes (cubed)
1 courgette (cubed)
2 bay leaves
2 dried springs of thyme

Colombo Masala
2 cloves
1 tsp malabar black peppercorns
1 tsp musturd seeds
1 tsp cumin seeds
1/2 tsp fenugreek seeds
1/2 tsp turmeric powder
2 tbsp coriander seeds
Method
Dry roast all the masala ingredients & then grind to fine powder.
Dunk chicken pieces in flour & fry till light golden brown.
Warm the oil in a casserole . Add bay leaves & thyme.
Then add finely sliced onions.
When it turns golden brown, add ginger-garlic paste.
Then add fried chicken & colombo masala.
Stir for a while & add water .
Bring to the boil, then turn the heat down and simmer for 25min, stirring from time to time.
When half cooked, add potatoes & courgettes.
When the chicken is cooked thoroughly, remove from fire.
Add lime juice & just swirl the casserole.
Garnish with freshy chopped parsely & serve with rice / any type of bread.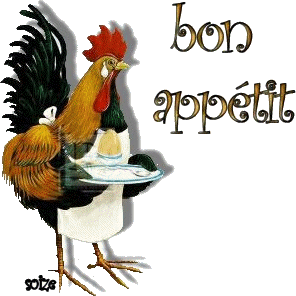 Colombo Curry is the speciality of French Islands - Martinique & Gaudeloupe. Colombo Curry powder / Poudre de colombo is French Caribbean Curry powder. Readymade ones are available in supermarkets. But I prefer freshly ground curry powder.