Cochin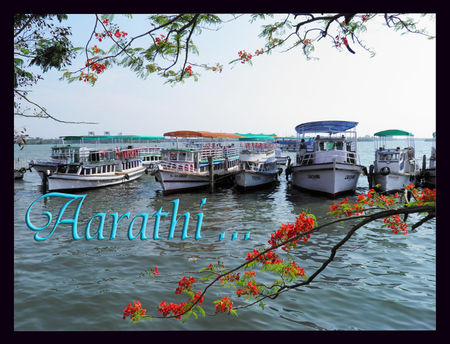 Centuaries ago "Muchiripattinam"- the capital of Chera Dynasty, was a prosperous seaport at the mouth of the Periyar River. Trade & commerce flourished during their reign. [ In Kerala, the winds of the south-west monsoon blows in from the direction of Africa & the winds of the north-east monsoon sweeps away from the coast ] .The Arab traders took advantage of this natural phenomenon & set sail (Dhows) towards India from June- Aug & returned with spices in Oct -Dec. The word `monsoon' derived from the Arabic word `mausim', which means `season'. Earlier traders were Arabs followed by Greeks, Romans, & Jews. The first centuary Roman traveller Pliny the Elder refered this port as "Muziris" - primium emporium Indiae. In Naturalis Historia, he mentioned that the wealth of the Roman Empire was drained due to vigorous trade of spices ( pepper, cardomom,cinnamon,cloves) from India. Various traders & seafarers arrived in this port. Famous were Greek merchant & mariner Hippolas, Chinese mariner Zheng He, Jews (69 AD) ,St Thomas - Apostle of Jesus(52 AD) , Malik-ibn-Dina - follower of Prophet Muhammad. It's said that Islam was introduced in Kerala by Malik-ibn-Dina & Christianity by St Thomas.
Later in 1340 AD, a massive flood washed away this port. The flood silted in one of the branches creating a new land-locked harbour Kochi. At the end of 14th century the "Perumpadappu Family" - shifted their capital to Cochin. The Portuguese arrived in the beginning of the 16th century . The forces of Alfonso De Albuquerque helped Rajah of Cochin to defeat Zamorin's forces. So Rajah granted him Fort Kochi & gave permission to built a fort ( Fort Emmanuel) and a Catholic Church (St. Francis Church). Fort Kochi remained in the hands of Portuguese for 160 years. By the end of 1653 the Dutch invaded & defeated the Portuguese. They held Fort Kochi for 112 years till 1795. But by the end of 17th century the rulers of Mysore ( Hyder Ali & Tipu Sultan) defeated the Dutch power. The British took over Cochin after the fourth Mysore war. They renamed "Kochhu Aazhi" meaning small lagoon as Cochin.
Nicolas Conti - an Italian traveller has written that " If China is where you make money , then Cochin is the place to spend it". Chinese traveller Ma Huen has also written about this port.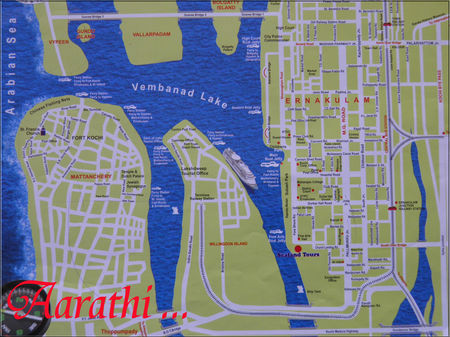 Ernakulam district was formed on April 1st 1958. The Corporation of Cochin includes Ernakulam, Mattancherry , Willingdon Island, Bolgatty Island , Vypeen Island, Vallarpadom & Gundu island . All these islands are situated in & around Vembanad Lake. The Vendruthy bridge (700m) connects Ernakulam to Willingdon Island & Fort Kochi. The Gosree Bridge connects Ernakulam to Bolgatty Island, Vallarpadam & Vypeen.
Today Ernakulam is the industrial & commercial capital of Kerala. It's also a touristic destination with it's beautiful lagoons, beaches & magnificent backwaters.