Gâteau Breton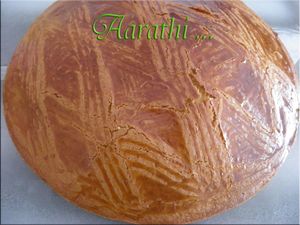 Ingredients
300g flour
125g salted butter
150g sugar
3 eggs + an yolk
2 tsp baking powder
2 tsp vanilla essence
1/2 cup rum / calvados/ milk
Method
Preheat the oven to 180°C.
Cream together the butter, sugar & salt .
Add beaten eggs.
Sieve the flour and baking powder together and fold into the cake mixture.
Then add baking powder , vanilla essence & rum.
Mix well & pour the batter into the greased cake pan.
Refrigerate for 30mn.
Then draw diamond shapes over the dough using the tines of the fork.
Brush with beaten egg yolk & bake (35-40 mn).
Serve with tea.


Brittany region / Bretagne is situated in the north west of France.
According to their tradition, this cake is cut in diamond shapes & served along with cream / compote.