Etti Ghasi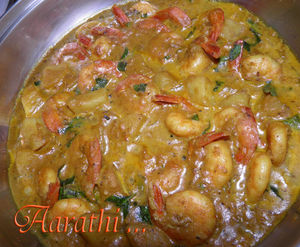 Ingredients
500g tiger prawns ( fresh/frozen)
1/2 tsp black pepper powder
1/2 tsp turmeric powder
1 tbsp curd
1 tbsp ginger +garlic paste
Salt to taste
***
An onion (chopped)
1 tbsp coriander powder
1 tsp red chilli powder
1/2 tsp garam masala powder
***
2 onions (thinly sliced)
2 potatoes (cubed)
Curry leaves / Coriander leaves
1/2 tsp lime juice
Oil for frying
Method
Shell, devein and wash prawns using salt and turmeric.
Blot dry using kitchen paper & marinate it with the other four ingredients.
Then keep it in the refrigerator for 30 mn.
Heat oil in a sauce pan & fry onions to golden brown.
Remove from fire & add the powders.
Fry for a while so that onions are well mixed with powders.
Grind this into a fine paste & keep aside.
Heat oil in a pan & fry onions till translucent.
Add the marinated prawn & fry for a few minuites.
Then add the masala paste & stir for another 2mn.
Add suffient water & cubed potatoes.
Cover & cook for a few minuites.
When the prawns are cooked, remove from fire.
Add lime juice & just swirl the pan.
Garnish with chopped curry / coriander leaves.
Serve with rice or any other Indian bread.