Fried Chicken Drumsticks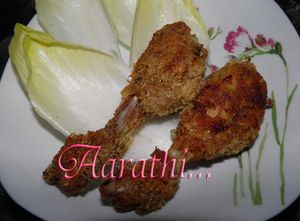 Ingredients
2 eggs (beaten)
2 tbsp Dijon musturd
1/2 tsp red chilli powder
1/4 tsp freshly ground black pepper
Salt to taste
6 chicken drumsticks (skinned)
2 cups bread crumbs
2 tbsp dried herbs (herbes de Provence)
Oil
Method
Skin the chicken drumsticks & keep aside.
Mix the first five ingredients in a pan.
Then marinate it with the chicken & keep in the refrigerator for 3 hours.
Take another pan & mix breadcrumbs with herbs.
Drendge each drumstick in the breadcrumbs & shake off excess.
Place them on a greased baking tray.
Spray each drumstick slightly with a cooking spray.
Preheat oven to 180° & bake for 40mn until drumsticks are brown.
Serve these crispy drumsticks as a starter.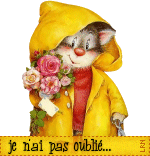 Herbes de Provence is the mixture of dried herbs (Oregano+Thyme+ Rosemary). This spice mixture originated in the Mediterranean coast of France popularly known as "Provence".