Meat Ball Curry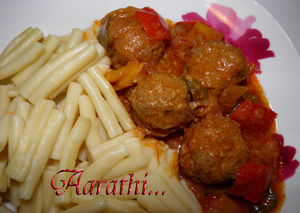 Ingredients
2 shallots
A small piece of ginger
2/3 garlic cloves
A green chilli
Few mint leaves
***
1tbsp masala powder
An egg
Salt to taste
4 steaks
***
1 cinnamon stiick
2 cloves
2 onions (thinly sliced)
2 bell pepper (sliced)
2 tbsp tomato puree
1/2 tsp chilli powder
1/4 tsp turmeric powder
Coriander leaves
Salt to taste
Garam masala
Oil for frying

Method

Coarsely grind first five ingredients & add to the minced meat.
Add curry powder, salt & an egg.
Mix well & keep in the fridge for an hour.
Make small balls of prepared mixture & keep aside.
***
Heat oil in another pan .
Add cinnamon & cloves.
Then add sliced onions & fry till light golden brown.
Add chopped bell pepper.
Fry for a while & add all the powders (chilli+turmeric)
Then add tomato puree, salt & water.
Cover & cook for a few minuites.
They add meat balls & cook for another 20 mn.
Garnish with coriander leaves & garam masala.
Goes very well with pasta / Indian bread / rice.

.