Jollof Rice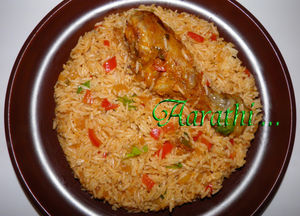 Ingredients

A piece of ginger
4 cloves of garlic
2 green chillies
***
6 chicken thighs (skinned & chopped)
1 tsp chilli powder
1/2 tsp turmeric powder
1/2 tsp salt
3 cups cooked Basmati rice
2 onions (chopped)
2 bellpeppers(diced)
2 tbsp tomatoes puree
1 chicken stock cube
Salt to taste
Coriander leaves
Oil for frying

Method.
Marinate chicken with chilli,turmeric & salt & keep aside.
Blend first three ingredients in a mixer & keep aside
Heat the oil in a pan.
Fry both sides of the marinated chicken & keep aside.
In another saucepan heat oil & fry onions to light golden brown.
Then add blended mixture along with chopped bell pepper.
Fry for a while & then add tomato puree along stock cube & water.
Cover & cook for a while.
Then add fried chicken thighs & cook for another 20 mn.
Remove from fire when the chicken is cooked & the sauce is reduced.
Then add cooked rice & toss gently.
Garnish with coriander leaves & serve.


Jollof rice is prepared all over West Africa but it's origin is Senegal.
It's popularly known as "Benachin" which means cook everything in one pot. When the chicken is half cooked they add rice grains & cook. For my convenience I used pre-cooked rice.