Royal Palace of Versailles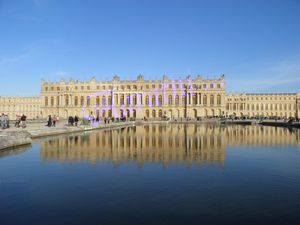 A vast, extravagant castle with spectacular architecture. This is the royal residence of Louis XIV- the Sun King. The construction of the Palace began in 1664. Louis Le Vau was commissioned to renovate and extend an old hunting lodge built by Louis XIII in 1624. Andre Le Notre, landscape architect created the gardens from 37,000 acres of swamp land. Hardouin-Mansart masterminded the hydraulic display of 600 fountains. Charles Le Brun, was the painter and decorator.
During the reign of Louis XIV, Versailles was the headquarters of every arm of the state. The construction of Versailles was completed near the end of Louis XIV's life. Both Louis XVI & his wife Marie Antoinette were extremely lavish. In 1788 the French government went bankrupt. Louis XVI was forced to levy high taxes on the peasantry. In 1789 French revolution started. On October 6, 1789 a mob of angry Parisians, mostly women, marched to the Palace demanding bread. They stormed the Palace. Louis XVI and Marie Antoinette were taken to Paris as prisoners with their children. They never saw the Palace of Versailles again. Later both of them were convicted for treason & sentenced to be guillotined .
Today the Palace of Versailles is one among the most visited monuments in France.Altogether there are 700 rooms, 67 stairs , 352 chimneys, park with 600 fountains & 250,000 trees .
Every year, there are 10 million visitors for the garden & 3 million for the castle.
The whole complex is a magnificent. Only a small portion of it is open to the public.



The state apartments of the King & Queen.


King's Private Bedroom


The Royal Opera


Galerie des Glaces - Hall of Mirrors, where the Treaty of Versailles was signed to end World War 1.


Italianate Grand Trianon, designed by Hardouin-Mansart in 1687 as a "country retreat" for Louis XIV.


Greek Petit Trianon, built by Gabriel in the 1760s.


Le hameau de Marie-Antoinette - a play-village and farm built in 1783 for the Queen.

The park is extremely large. A train shuttles between the terrace in front of the château and the Trianons.
Bare in mind. Visiting the whole complex is very expensive. Every wing must be separately paid.