Keukenhof Tulip Garden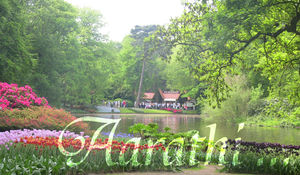 Keukenhof - the most popular bulb garden in the world is located 40 km away from Amsterdam. Over 7 million flower bulbs are planted by hand in this park. This includes 4.5 million tulips, 35000 lillies, hyacinths, daffodils, narcissus & other spring bulbs. There are 2500 trees that gives shade to these spring flowers. This garden is opened only for 2 months (mid-March to mid-May). During spring this multicolored garden is really breahtaking.
The name Keukenhof means "kitchen garden". In 15th century this area was a hunting estate & a herb garden of a nearby castle owned by duchess Jacoba van Beieren. The present English style garden was designed in 1857 by a prominent Dutch landscape architect Jan Zocher. In 1949, local bulb growers decided to conduct annual spring flower exibition.
A barrel organ is played at the main entrance to greet the visitors. This 32 hectares park & its 15 km pathway is quite relaxing. At the end of the park there is an old wind mill built in 1892. It was erected in this park in 1951. Visitors can climb on the top & get a spectacular view of tulip fields. In & around the garden there are fountains, Dutch statues, clog shoes & souvenir shops. For kids there is a play area, maze & a farm.