Mushroom Risotto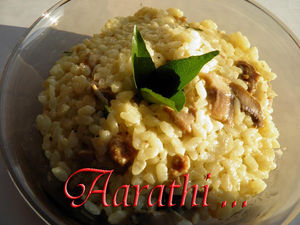 Ingredients
1 can sliced mushroom (drained)
350 g Risotto rice (arborio rice)
1 Onion (chopped)
2 shallots (chopped)
2 garlic cloves(chopped)
15cl liquid cream
2 tbsp olive oil
10 g butter
150 ml white wine
1.5 litres water + 2 stock cubes
Freshly ground pepper
Salt to taste
A pinch of turmeric (optional)
Freshly grated parmesan
Chopped curry leaves / Parsely leaves
Method
Boil water with stock cubes & keep aside.
Heat butter in a frying pan.
Fry shallots & garlic, till translucent.
Then add mushrooms & fry for 3 mn.
Add 2tbsp white wine & stir again for 2mn.
Remove from fire & add liquid cream.
Garnish with salt, pepper & curry leaves. Keep aside.
Heat olive oil in a thick bottomed vessel & fry onions till translucent.
Then stir in rice & fry till it changes it colour.
Add white wine until it's completely absorbed.
Then add a ladle of stock, simmer & stir again.
Continue this until the rice is well cooked.
Then add the prepared mushroom mix & stir once again.
Serve hot with freshly grated parmesan.



If you are using dried mushrooms,soak in water for 10mn, drain well & fry in oil.