Squid Fry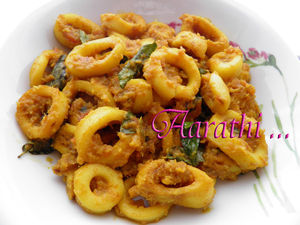 Ingredients
500g squid (cut it into thin rings)
1 tsp chilli powder
1/2 tsp turmeric powder
Salt to taste
***
A small piece of ginger(chopped)
2 cloves of garlic (chopped)
2 shallots (chopped)
1/2 tsp cumin seeds
3 tbsp freshly grated coconut
5 curry leaves
****
1 big onion(chopped)
1 tomato (chopped)
1 tsp coriander powder
Oil for frying
Curry leaves
1 tbsp coconut oil (optional)

Method
Mix first three ingredients & keep in fridge.
Coarsely grind next five ingredients & keep aside.
Fry onions till light golden brown.
Then add coriander powder.
Fry for a while & then add marinated squid.
Add chopped tomatoes, water, & cook for a 30 mn.
When the sauce is half reduced, add blended coconut.
Cover & cook until the squid rings are tender
When the sauce is completely reduced, add coconut oil.
Remove from fire & garnish with curry leaves.