Chinese Fishing Nets


Fort Kochi Beach lined with Chinese Fishing nets is a major touristic spot of Cochin. The Vasco-da-gama square is crowded with tourists & locals to get the spectacular sight of these nets at sunset.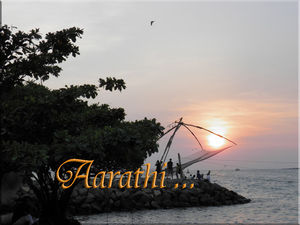 History reveals that Cochin had trade links with China & Arab Countries for more than 2000 years. These Fishing Nets (Cheena Vala) were introduced by Chinese explorer Zheng He in the 14th centuary, during the reign of Kublai Khan.
These cantilevered nets are erected on the land. They are made of bamboo & teak poles. A vast fishing net which covers 20 m over the sea is suspended at one end & large stones to balance it at the other. A team of six fishermen operate it during high tides. At night lights are suspended over it to attract fishes.
Near the beach there are Buy & Fry restaurants from where you can select the fish & fry in kerala style.