Prawn Chow Chow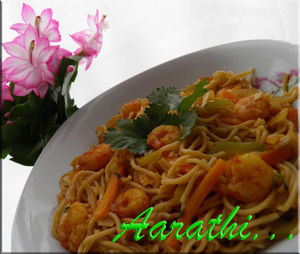 Ingredients
1 tbsp soya sauce
1 tbsp chilli sauce
1 tbsp sesame oil
1 tbsp cornflour
2 tbsp ketchup
Noodles
500 g fresh prawns
1/2 tsp chilli powder
1/4 tsp turmeric powder
1/2 tsp salt.
1/4 cabbage(finely sliced)
1/2 bell pepper (finely sliced)
1 onion ( inely sliced)
2 carrots (julienned)
Oil for frying
Coriander leaves
Butter
Method
Mix first five ingredients in a bowl & keep aside
Shell, devein and wash prawns using salt and turmeric.
Mix first 4 ingredients & keep in the refrigerator for 5 hours.
Fry the prawns till light brown & keep aside.
***
Boil noodles in unsalted water over medium heat.
If done,drain & rinse with cold water.
Toss noodles with some butter / oil & keep aside.
***
Heat oil in a sauce pan.
Add chopped onion & julienned vegetables.
Fry till translucent & then add the prepared sauce. .
Cover & cook for a while.
When the sauce is reduced, add fried prawns.
When cooked, fold in cooked noodles & toss several times.
Garnish with soya sprouts & coriander leaves.