Crêpes Suzettes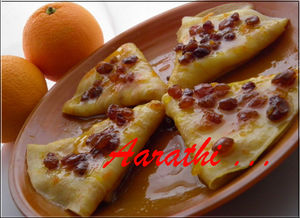 Ingredients
250 g flour
75 g sugar
25 g melted butter
3 eggs
A pinch of salt
1/2 l milk
2 tsp orange water
*Suzette Butter*
150g butter
100g sugar
Rind of an orange(organic)
Juice of an orange
3 tbsp Grand Marinier(optional)
Raisins (optional)
Method
Mix first five ingredients (without any lumps) in a bowl.
Add milk & stir again.
Keep aside for half an hour.
If the batter is thick, add some more milk.
Heat a nonstick pan / griddle with little oil.
Pour a spoon full of batter & spread it.(in a circular way)
Cook on both sides & keep aside.
***
Using a peeler, gently peel the orange rind.
In a nonstick pan, make caramel using butter sugar & orange juice.
When it leaves the sides of the pan, add marinier,raisins & orange rind.
Then add folded pancakes & transfer on the serving plate.
Drizzle the left over syrup over the pancakes & serve.


The Crêpes Suzettes was first prepared by French Chef Auguste Escoffier (1896).
These pancakes got it's name from French actress Suzanne Reichenberg.