Velankanni Church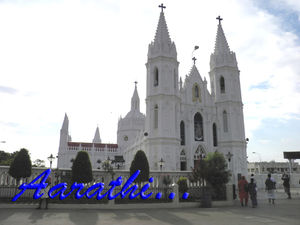 Velankanni is the most popular church on the Coromondal coast. This majestic 500yr old Church was built in Gothic Style with white facade & red tiles. It is located 12km from Nagapattinam & 350km from Chennai. This Roman Catholic Church is dedicated to Our Lady of Good Health - Arokia Matha.The shrine is open frm 5 am to 9 pm & the masses are conducted in 8 languages. This church is popularly known as " Lourdes of the East".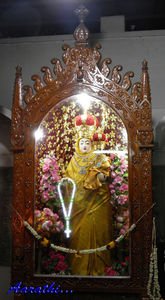 It's said that three miracles took place in this region.

In 1560, Mother Mary appeared before a milk boy who was resting under a banyan tree, near a pond. She asked for some milk to quench the thirst of Baby Jesus. The boy returned to his master & explained the incident. Later both of them were surprised to see their pitcher re-filled. The pond is now renamed as Matha Kulam - Our Lady's Pond.

At the end of the 16th centuary , Mother Mary appeared before a lame boy from Nadu Thittu & cured him. At present it's round church called Nadu Thittu Shrine.

In the 17th centuary, a Portuguese Ship sailing from Macau to Colombo caught in a tempest. The ship reached the shore of Velankanni on Sept 8th. It is believed that the Velankanni Basilica was built by the rescued Portuguese sailors.

In 1962, Pope of Vatican John XXIII declared this church as Basilica. In this domain there is a Basilica, Nadu Thittu Shrine ,Our Lady's Pond & a museum. In between the Basilica & Our Lady's Pond there is rectangular mud section were the pilgrims crawl on their knees chanting prayers. Some devotees threw the message in a sealed bottles with address of the Shrine. Before visiting the shrine, the pilgrims wash themseves in the sea. The walkway is lined with several shops selling garlands, candles & wax molds of our body parts. The tradition is to offer the respective mould of the bodypart to be healed. The annual feast is celebrated for ten days (28th Aug to 8th Sept) . Millions of pilgrims attend this annual festival.There is also a museum which houses all the valuable offerings to the Arokya Matha.
For the 2004 Tsunami, so many pilgims were drowned in this region.