Channa Ki Kadi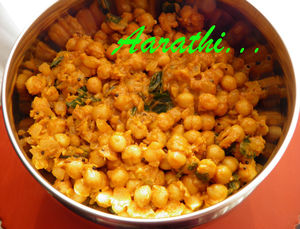 Ingredients
2 tbsp curd
1 tbsp tomato puree
500g channa / canned garbanzo beans
2 onions (chopped)
1 tbsp coriander powder
1 tsp red chilli powder
1 tsp salt
1/2 tsp turmeric powder
2 garlic cloves + a piece of ginger (chopped)
Coriander leaves
Garam Masala
** To Temper**
1 tbsp oil
1tsp mustard seeds
1 dried chilli
A spring of curry leaves
Method
Soak channa dal overnight & pressure cook.
If you are using canned, drain the water & keep aside.
Mix curd + tomato puree+ salt & keep aside.
Heat oil & fry onions till light golden brown.
Add ginger - garlic paste & fry again.
Then add coriander powder, chilli powder & turmeric powder.
Stir for a while & then add curd mixture.
Add some water & cook it .
If done, add cooked channa daal .
Simmer & cook for another 5 mn.
Remove from fire.
Heat oil in another pan.
Splutter mustard seeds along with dried chilli & curry leaves.
Add to the channa kadi & mix well.
Garnish with coriander leaves & garam masala.
Goes very well with any type of Indian bread / rice.