Attukal Bhagavathy Temple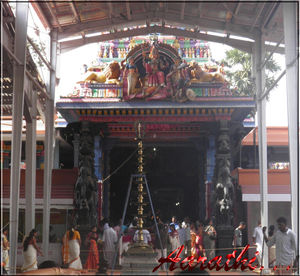 The Attukal Bhagavathy Temple is located 2km from Trivandum - the capital city of Kerala. The main diety is Attukal Bhagavathy / Attukal Amma - an avatar of Kannaki.The colourful gopuram is a blend of Kerala & Tamil architecture. This temple is popularly known as the Sabarimala of Women. The annual festival " Pongala Utsavam" begins on Bharani day of Kumbha masam (feb- march) & lasts for 9 days. The ninth day is the "Pongal Ceremony". The women devotees come here to prepare pongal for their Goddesss. Early in the morning they line up around temple premises with earthen pot, twigs & bricks. They lit the hearths & boil rice with jaggery & coconut till it spills over the pots.The chief priest carries a sword of the Goddess & bless the pilgrims by sprinkling holy water & flowers. After this ceremony they return home with their blessed rice porridge. At dusk , the idol is carried to Manacaud Sastha Temple with caparisoned elephants, thalapoli, kuthiyattom & nadaswaram. At dawn the procession reaches the temple & marks the end of the festival. Attukal Pongala - 2009 is marked in Guiness Book as the largest gathering of women in the world. (27 lakhs)


Kannaki - the heroine of Silapathikaram written by Tamil poet Ilango Aadikal( 200-300 AD). Kannaki was married to Kovalan a son of a wealthy merchant of Pohur (Capital of Cholas) . But Kovalan met a courtesan dancer Madhavi & spent all his wealth on her. When he was penniless he went back to his loyal wife. They left for Madurai to start a new businees. For money, he decided to sell one of Kannagi's pair of ankelets. He went to a goldsmith. At that time Queen's ankelets was stollen by the court jeweller. Unfortunately the court jeweller came to see this & took Kovalan before the King and charged him for the theft of the Queen's ankelet. Without a trial, King Nedumjeliyan (Pandya King) ordered to behead Kovalan. Hearing this Kannaki went mad & rushed to the palace with the remaining ankelet. To prove the innocence of her husband , she broke it before the king to show that it contianed rubies. Both the King & the Queen was extremely shocked to see this because the Queens ankelts contained pearls. Both of them died at the spot. Then Kannaki set out of the palace & encircled the City cursing. The whole City of Madurai was destroyed with fire. Later the Goddess of the City - Madura Meenakashy asked Kannaki to withdraw her curse & thus the fire abated.

Attukal is the place where Kannaki took rest on her way to Kodungalloor. The legend says that she appeared as a girl before the head of the Mullaveetil family. She urged him to cross the Killi River.They crossed & he took her to his ancestoral home. When he went to get some food , the girl disappered. But she came back in his dream & asked him to build a temple where he found 3 golden lines. He did the same & this is the present Attukal Bhagavathy Temple.
For panoramic view just click Attukal Baghavathy Temple.
Today is Grandma's Day .
Remembering my loving Granny who narrated "The Story of the Anklet".
Bonne fête à toutes les Grands Mères !