Rabbit Stifado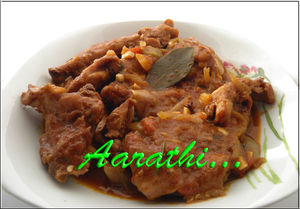 Ingredients
1.5 kg Rabbit
Salt & Pepper
***
1 cinnamon stick
1 star anise
3 cloves
1 bouquet garni ( 2 strings of parsely, bay leaves, thym tied together)
500g shallots ( chopped)
2 cloves of garlic(chopped)
1 green chilli (half slit)
1 tbsp tomato puree
1 cup red wine
1 chicken stock cube
1/2 tsp Espelette chilli powder ( I took kashmir chili powder)
1 tsp salt
Olive oil / vegetable oil
pepper powder
Method
Marinat rabbit pieces in salt & pepper.
Heat oil in a sauce pan & fry them ( both sides) .
When golden brown drain in a kitchen paper & keep aside.
Heat oil in a sauce pan & add cinnamon, cloves & anise.
Add shallots & fry till translucent .
Then add bouquet garni & fried rabbit pieces.
Add garlic,green chilli & chilli powder.
Fry for a while & then add tomato puree, wine, stock cube & water.
Bring to the boil, then turn the heat down and simmer for 20min, stirring from time to time.
If the rabbit is cooked thoroughly, remove from fire.
Discard the bouquet garni & garnish with ground pepper.
Serve with any type of bread / rice.