Sachertorte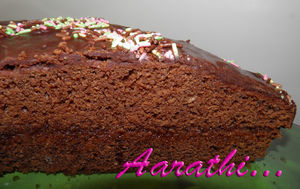 Ingredients
100g flour
5 eggs
1 tsp baking powder
160g sugar
160g butter
A tsp vanilla essence
150g chocolat
For Icing
150g chocolate
100g liquid cream
10g sugar
10g butter
chocolate chips
****
Apricot Jam
Method
Break the chocolate bar & add 2 tbsp water.
Melt in microwave oven 2 mn.
Add butter & mix well.
In another bowl beat eggs & sugar.
Sieve the flour and baking powder together and fold into the cake mixture.
Add chocolate butter mixture & mix well. Pour the batter into the greased cake pan.
Bake for 30 minutes, Th 180°C.
***
With a sharp knife cut the cake & spread apricot jam.
Melt chocolate in a microwave oven with butter.
Add sugar , cream & mix well
Glaze the cake & decorate with sprinkles.