Mutton Biriyani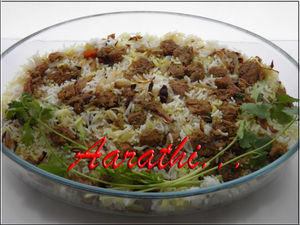 Ingredients
1kg mutton (chopped)
2 bay leaves
1 tbsp mutton masala
2 green chillies (half slit)
Salt to taste + water
* Masala *
2 green chillies
4 garlic cloves
A piece of ginger
9 mint leaves
1 tbsp coriander powder
2 big tomatoes (sliced)
3 big onions (sliced)
50 g butter / ghee + 1 tbsp oil
1 Cinnamon stick
1 star anise
2 cloves
3 cardomom pods
Coriander leaves
1 tsp garam masala
Salt to taste
* For Rice *
4 cups Basmati rice
4 cups water + 2 cups mutton stock
1 tsp salt
1 cinnamon stick
3 cardomom pods
1 star anise
1 bay leaf
3 cloves.
3 tbsp ghee / oil
Decoration
2 finely sliced onions
A pinch of saffron
Cashews & raisins
Method
Pressure cook mutton with first five ingredients & keep aside (15mn).
Drain the stock in a bowl & discard the bay leaves.
Blend first four ingredients( green masala) & keep aside.
Heat butter+oil in a sauce pan.
Add the spices-cinnamon ,star anise, cloves & cardomom pods.
When aroma rises , add chopped onions & fry till translucent.
Then add the green masala & fry for few minutes .
Add coriander powder & fry for a few minutes.(to avoid raw smell).
Then add the sliced tomatoes & fry again.
Fry for 5mn & add a cup of mutton stock.
Cover & cook for a 10mn.
Then add cooked mutton pieces & mix well.
Simmer & cook for another 5mn.
Garnish with garam masala & coriander leaves. Keep aside.
= *Rice *=
Boil water, add salt & keep aside.
Heat ghee in a sauce pan.
Add Cinnamon, cardomom,star anise & cloves.
When aroma of the spices rises add basmati rice & stir.
When some rice grains change to light brown, add boiled water +mutton stock.
Bring to the boil, cover tightly and simmer until the rice is tender and the water has been absorbed.
Reduce the heat.
When rice is 3/4 cooked remove from fire.
Close the lid tightly . Stir occassionaly with a wooden spatule.
When fully cooked remove the lid & let it cool
* Decoration *
Dilute a pinch of saffron in water.
Mix two spatules of rice & keep aside.
Fry cashews & raisins in ghee & keep aside
Fry sliced onions in ghee & keep aside.
***
Mix the mutton masala with rest of the rice.
Stir with a wooden spatule.
Decorate with saffron rice, fried shallots, cashews & raisins .
Garnish with coriader leaves & garam masala.
Serve hot with Raita & Chutney.