Stuffed Neyypathiri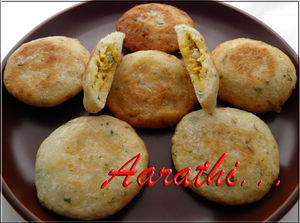 Ingredient
2 cups roasted rice powder
21/2 cups of luke warm water
1 tsp fennel seeds
1 tsp salt
3 tbsp dessicated coconut / 3 tbsp freshly grated coconut
2 shallots
Curry leaves
* Fish - Filling *
250g salmon
1/2 tsp chilli powder
1/4 tsp turmeric powder
Salt to taste
***
1 tsp ginger-garlic paste
1 green chilli(chopped)
2 onions (chopped)
1 tsp coriander powder
1 tsp chilli powder
1/4 tsp turmeric powder
Salt to taste.
Coriander leaves.
Garam masala.
Oil for frying
Method
Coarsely grind coconut, shallots, curry leaves & fennel seeds in a blender.
Then add the blended mixture to the rice powder.
Boil water with salt & add to the rice mixture.
Mix with a wooden spatule to get a stiff dough.
Leave aside to cool.
***
Marinate fish with chilli , turmeric & salt.
After an hour, fry them till light golden brown.
Then mince it & keep aside.
Heat oil in a pan & fry onions till light golden brown.
Add ginger- garlic paste + chopped chilli & fry again.
Add the minced fish & all the masala powders.
Add some water & cook.
When the sauce is reduced remove from fire.
Garnish with garam masala & coriander leaves.
***
Make lemon sized balls of rice dough.
Take a plastic cover/aluminium foil/banana leaf on a plate.
Take a dough ball & flatten into disc of abt 8 cm.
Then place the the minced fish masala in the middle.
Cover with another rice disc & seal the edges.
Repeat the same with other dough balls.
***
Heat oil in a frying pan.
Cook both sides of the pathiri until light golden brown.
Remove using a slotted spoon & drain on a kitchen paper.
Ur stuffed Neyypathiri's are ready to serve! .