Channa Stew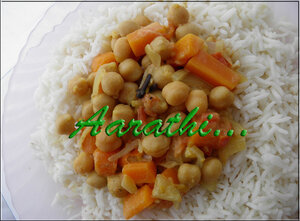 Ingredients
10 g butter / ghee + 2 tbsp Oil
1 Cinnamon stick
1 star anise
2 cloves
2 cardomom pods
***
500g channa / canned garbanzo beans
2 onions (chopped)
1 tbsp coriander powder
2 green chillies
2 tomatoes (chopped)
2 carrots (cut in sticks)
1 tsp salt
1/2 tsp turmeric powder
A piece of ginger (chopped)
1 cup coconut milk / liquid cream
Coriander leaves
Garam Masala
A spring of curry leaves
Method
Soak channa dal overnight & pressure cook.
If you are using canned, drain the water & keep aside.
Heat oil + butter & fry spices for a while.
Then fry onions till light golden brown.
Add ginger paste + carrot & fry again.
Then add coriander powder, green chillies & turmeric powder.
Stir for a while & chopped tomatoes.
Add some water & cook it .
If done, add cooked channa daal.
Simmer & cook for another 5 mn.
Remove from fire & then add coconut milk.
Mix well, garnish with coriander leaves & garam masala.
Goes very well with any type of Indian bread / rice.