Palau Nacional of Montjuïc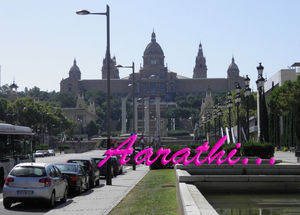 The Palau Nacional of Montjuïc was built in 1929 for the Univerasal Exibition of Barcelona.This magnificent palace was designed by Charles Buigas. It became a National Art Museum in 1934. Today it houses Romanesque church paintings & Catalan art works. Infront of the palace there is an array of fountains.
At night there is a spectacular display of colour, light , music & water jets. This magic fountain operates everyday except Mon , Tue & -Wed. Can reach the top of Montjuïc by a funicular / at the foot of the hill by metro station Plaça Espanya.