Pithiviers aux Pommes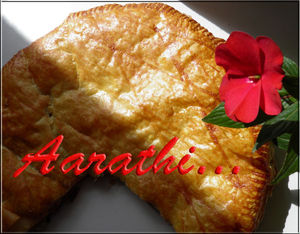 Ingredients
2 frozen puff pastries
For filling
125 g almond powder
100 g salted butter
125 g sugar
2 eggs + 1 egg yolk
3cl calvados (optional)
1 tsp vanilla / almond essence
***
2 apples
15g sugar
20g butter
A pinch of cinnamon
Method
Pre heat oven to 210° (Ther -7).
Wash , peel & cut apples in to cubes.
Caramalise them & keep aside
Mix butter & sugar.
Then add beaten eggs & vanilla essence.
Keep in the refrigerator for 15 mn.
Spread one of the puff pastry on a baking tray.
Leave 2/3 cim border & spread uniformly the almond paste.
Then spread the caramalised apple cubes.
Place the second puff pastry on top & press the edges using a fork handle.
Leave in the refigerator for 20min.
Using a knife , draw a pattern over the galette.
Don't forget to make 4/5 holes on it.
Then beat an egg yolk with 1 tbsp water & brush it on the the top of the pithiviers.
Bake for 25mn, 180° C (Ther - 6).
Serve warm / cold with apple cider.