Shrimp Stir Fry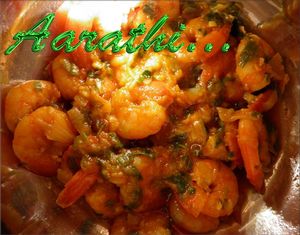 Ingredients
2 tsp soya sauce
2 tbsp ketchup
2 tsp chilli sauce
2 tsp rice vinegar
**
500g tiger prawns ( fresh/frozen)
1/2 tsp turmeric powder
1/2 tsp salt
***
1 tsp black pepper corns
1 tsp cumin seeds
1 tsp musturd seeds
1 tbsp vinegar
****
An onion (chopped)
2 scallions (chopped)
2 garlic cloves (chopped)
A piece of ginger (chopped)
1 tbsp sugar
Curry leaves / Coriander leaves
Freshly ground black pepper
Oil for frying
Method
Mix first four ingredients & keep aside.
Shell, devein and wash prawns using salt and turmeric.
Marinate in salt & turmeric & keep in the refrigerator for 4 hours.
Heat oil in a sauce pan.
Fry ginger & garlic till light golden brown.
Then add chopped onion & scallions.
Fry for a while & then add marinated prawns for 2mn.
Add ketchup sauce & cook for a few minuites.
When the prawns are cooked, remove from fire .
Garnish with pepper & coriander leaves.
Serve this spicy shrimp with rice or any other Indian bread.